Tremosine, holidays on Lake Garda with us
By the 1970s Tremosine was already considered an important tourist destination. The ideal place for those who want to spend their holidays in a natural environment of unquestionable charm. The territory offers wonderful views made up of landscapes, hills, mountains and plateaus that mix with the beauty and wonder of the magical atmosphere that surrounds Lake Garda which it overlooks. The proximity of the lake influences the climate, thus making mild winters and summers not sultry. A temperate climate, characterised by breezes that blow from the lake in the morning and towards the lake in the evening. The vegetation, an important natural resource of Tremosine, is typically Mediterranean and guarantees both the healthiness of the air and the protection of the mountain slopes from landslides and mudslides.
And while you walk through the streets and villages in the hinterland of this charming town, you can get lost in the enchanting, timeless views and enjoy the exciting views offered by Lake Garda. Tremosine, which was born in the heart of the Alto Garda Bresciano Natural Park, in addition to the pleasant feeling of relaxation and well-being, offers many outdoor activities such as numerous itineraries for hikers, trekking and bike lovers.
Every moment is the right one to organise your holidays on Lake Garda at the Hotel Pineta Campi, in the company of your loved one, with your family, alone or simply to follow your passions. Our hotel is the ideal solution for any type of holiday on Lake Garda. With our many services, comforts, excellent cuisine and the strategic position in which it is located, it is the ideal place to spend time relaxing, well-being and fun in Tremosine and its surroundings.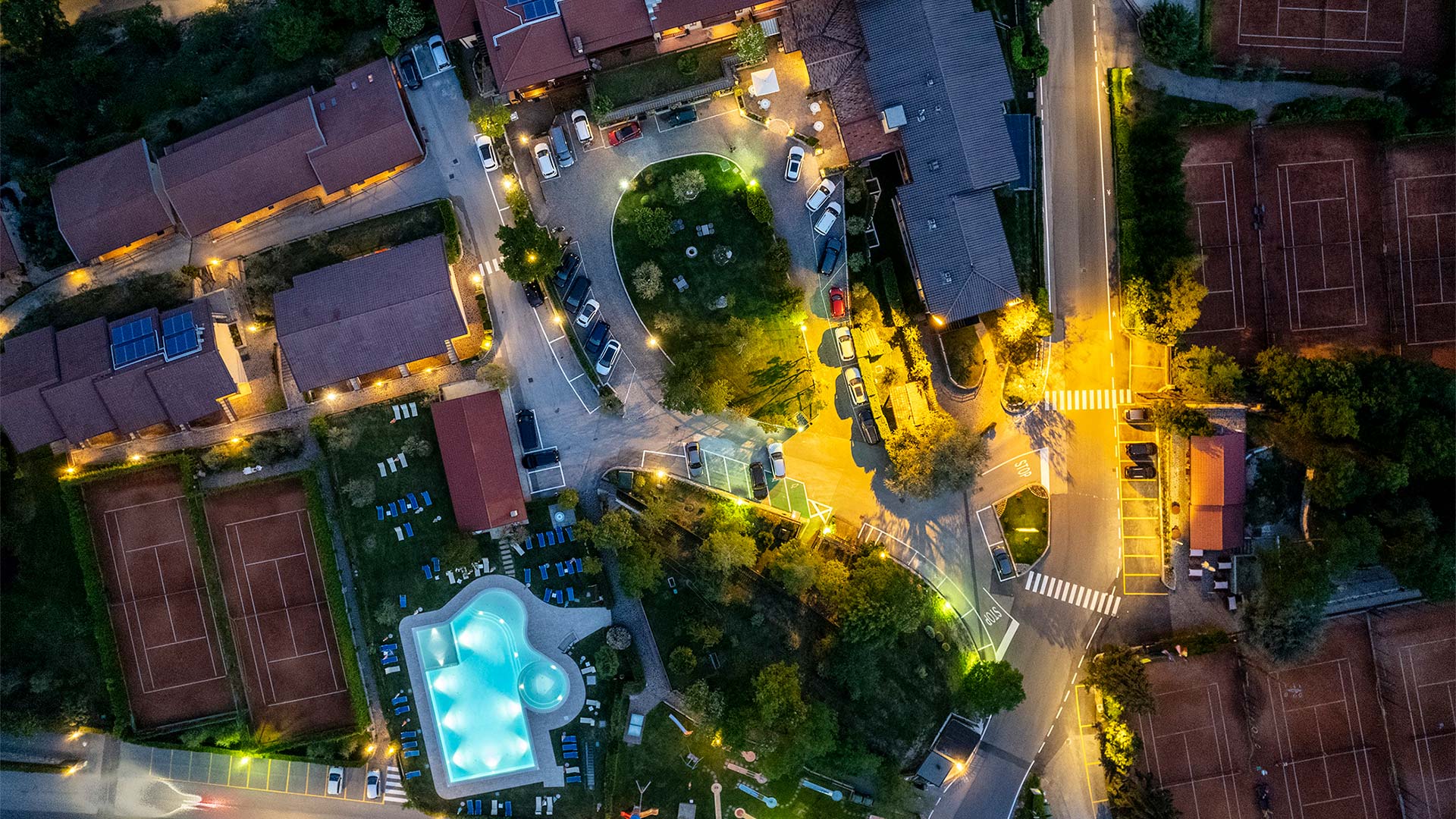 Ours is a welcoming hotel for couples and on Lake Garda, ideal for a holiday for 2 in this area of Italy, where the picturesque landscapes will frame your romantic moments and adventures. And, if after a day outdoors in contact with nature, you still have a lot of energy available, take a dip in the pool or workout in the gym. If you prefer to opt for something more relaxing, access our wellness area and top up your well-being with a sauna or massage. And don't forget dinner! Let us pamper you and delight you with our excellent food and wine proposals with typical local products at excellent value.
And for those who organise holidays in a family hotel on Lake Garda, Hotel Pineta Campi is among the best known in the area. It offers a range of activities for families to do together, such as tennis courses organised for every age group, hiking or biking, with the possibility of using our e-bike rental service. In warm weather you can have fun in our outdoor swimming pool with deck chairs, umbrellas and bar where you can have a refreshment. And finally, how can we end the day in the best way possible? Take a seat in our restaurant and we will be happy to welcome you and delight the palates of both adults and children.
For lovers of two wheels, the Hotel Pineta Campi is an excellent landing point for those looking for a hotel for motorcyclists on Lake Garda. You can easily reach more exciting itineraries such as the most beautiful road in the world (Strada della Forra), the Terrazza del Brivido or the Tremosine sul Garda itself, with incredible views to be discovered. Once your tour of Lake Garda is over, we will be waiting for you in our restaurant to welcome you taste the delights and flavours of our traditional cuisine.
And if you are looking for a hotel with tennis courts on Lake Garda, Hotel Pineta Campi falls into this category. In fact, the complex, has 12 tennis courts, immersed in the lush nature of the Tremosine plateau, where you can practice this sport challenging yourself at an amateur level. The hotel organises numerous courses for adults and children held by experienced and qualified instructors that include internal final tournaments.
You just have to organise your holidays with us and the Hotel Pineta Campi will take care of the rest.